When I was a flight instructor working my way through college in 1956, a P-51 taxied into our ramp. Its pilot was Vance Breese, the Mustang's original test pilot. During a conversation with him, I learned that he had flown more than 100 types of aircraft.

Wow, I thought, that's a lot of airplanes, and it prompted me to check my logbook to see how many types I had flown. At the time, July 24, 1956, I had checked out in 18 types. The first was an Aeronca "Champ." One hundred types seemed an impossible goal, but for reasons I could not explain, I felt challenged and made it a point to fly as many different types of aircraft as opportunity would allow.

I am still an avid "collector" and have flown more than 325 types. My most recent was a Boeing B-17 Flying Fortress. My current goal is to fly 400 types, although I doubt if I have enough years left to do that.

As the years rolled by and my list grew, I began to realize that I had flown some aircraft that I probably wouldn't recognize even if I saw them clustered on a ramp. These included such scarce aircraft as the Lombardi FL-3, the Morelli M-100S, and the Warwick Bantam.

Being somewhat obsessive-compulsive, I decided to put together an album containing a representative photo of each type that I have flown.

Some may wonder why I would want to fly such a large variety of aircraft. For me, every flight in a new airplane is an adventure, an opportunity to sample a designer's talent and ingenuity of which some obviously have more than others do. While we applaud some designs, such as the Siai-Marchetti SF.260, one can only wonder what inspired the manufacturers of others to risk the embarrassment of bringing their craft to market. A few are so underpowered that a prayer should be included on their before-takeoff checklists.

Sampling a wide variety of aircraft gives me a chance to compare handling qualities, performance, and systems. It helps me to know what is possible in an aircraft design and to distinguish between the good, the bad, and the ugly.

Determining which aircraft is a new type (to me) and which is not can be subjective. For example, I regard the Cessna 120 and 140 to be the same; there is insufficient difference between them to regard each as a separate type. Similarly, I consider all models of the Cessna 172 to be a single type. On the other hand, there is such a significant difference between the Cessna 182 Skylane and the Wren 460 Beta STOL (a modified 182) that I consider them to be different types. The latter is equipped with a reversible-pitch propeller, a canard-elevator combination on the nose, and spoilers for roll control. These convert an airplane that already has good low-end performance to one that is dramatically better.

I also regard all Piper Comanches as a single type except for the Comanche 600. When AirResearch replaced the Lycoming piston engine with a 600-hp Garrett turboprop engine (flat-rated to 400 hp), the machine assumed a startlingly different personality.

Reflecting on my first flights in some aircraft returns me to the memory of where I flew them. For example, I rented a De Havilland Chipmunk in Bristol, England, and recall flying it over the white cliffs of Dover and low over the English Channel while imagining that my wing-mounted twin-50s were armed and at the ready. Ghostly images of the Normandy beaches emerged from the morning mist as the Chipmunk and I dashed to assist in freeing France from the grip of the Hun.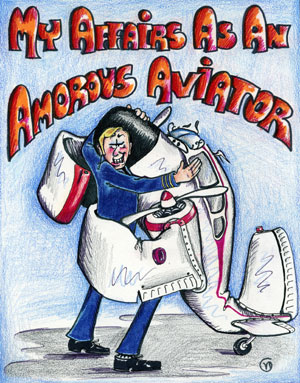 1.
11-07-53
Aeronca 7AC/DC Champion
2.
04-03-54
Cessna 120, 140
3.
04-10-55
Cessna 170
4.
05-05-55
Cessna 180, 185
5.
07-03-55
Beech 35 (through V-35B) Bonanza
6.
07-11-55
Piper J-5 Cruiser
7.
07-18-55
Stinson 108 Voyager/Station Wagon
8.
07-22-55
Met-Co-Aire Tri-Cessna 170
9.
07-26-55
Cessna 310
10.
11-27-55
Piper PA-22 Tri-Pacer
11.
11-30-55
Luscombe 8E, F Silvaire
12.
01-06-56
Ercoupe 415
13.
02-18-56
Ryan STA
14.
03-12-56
Culver LFA Cadet
15.
06-26-56
Cessna 165 Airmaster
16.
06-29-56
Mooney M-18 Mite
17.
07-03-56
Aero Commander 600 Series
18.
07-23-56
Globe/Temco GC-1B Swift
19.
07-25-56
Fairchild 24
20.
08-15-56
North American Navion
21.
09-16-56
Riley D-16 Twin Navion
22.
10-06-56
Beech 18 Twin Beech
23.
10-21-56
Cessna 182 Skylane
24.
11-11-56
Piper J-4 Cub Coupe
25.
11-12-56
Piper PA-12 Super Cruiser
26.
11-18-56
Aeronca 11AC Chief
27.
01-07-57
Fairchild PT-26 Cornell
28.
03-20-57
Ryan PT-22
29.
05-30-57
Pratt-Reed PR-G-1
30.
05-30-57
Cessna 172 Skyhawk
31.
06-01-57
Piper PA-16 Clipper
32.
06-14-57
Taylorcraft BC-12
33.
07-27-57
Mooney Mark 20/21
34.
08-24-57
Piper PA-18 Super Cub
35.
10-20-57
Bellanca 14-19 Cruisemaster
36.
12-28-57
Stinson SR-5 Reliant
37.
01-11-58
Stits FA-3B Playboy
38.
03-21-58
Piper PA-23 Apache
39.
04-06-58
Waco UPF-7
40.
06-29-58
Piper PA-24 Comanche
41.
09-23-58
Cessna 175 Skylark
42.
12-20-58
Piper J-3 Cub
43.
12-26-58
Morrisey/Shinn 2150
44.
12-26-58
North American AT-6, SN-J Texan
45.
06-04-59
Cessna 150
46.
07-01-59
Champion 7FC Tri-Traveler
47.
09-26-59
Beechcraft Model 18 Super Twin Beech
48.
10-15-59
Cessna T-50, UC-78 Bobcat, Bamboo Bomber
49.
10-31-59
Luscombe 8E Floatplane
50.
01-24-60
Cessna 210 Centurion
51.
04-19-61
Beech 33 Debonair
52.
06-25-61
Schweizer TG-3
53.
08-12-61
Fairchild PT-23
54.
09-07-61
Convair 240
55.
11-21-61
Cessna 190, 195
56.
01-31-62
Piper PA-23 Aztec
57.
02-21-62
Beech 50 Twin Bonanza
58.
06-23-62
Piper PA-28 140, 150, 160, 180 Cherokee
59.
11-07-62
Cessna 205
60.
12-28-62
Schweizer 2-22
61.
01-17-63
Schweizer 1-26
62.
05-24-63
Bell 47D, G1
63.
06-29-63
Hughes 269A, 300
64.
06-30-63
Hiller UH-12
65.
07-13-63
Commonwealth Ranger 185
66.
07-22-63
Meyers OTW
67.
07-26-63
Beech 23 Musketeer
68.
11-14-63
Schweizer 1-23
69.
08-02-64
Lockheed 1049G Super Constellation
70.
08-10-64
Lockheed 749, 749A Constellation
71.
10-09-64
Piper Colt
72.
12-21-64
Boeing 707-331 Intercontinental (pure jet)
73.
01-07-65
Boeing 707-131 (pure jet, water wagon)
74.
01-08-65
Boeing 707-131B (fan jet)
75.
01-24-65
Boeing 707-331 Intercontinental series (fan jets)
76.
02-20-65
Piper PA-28 Cherokee 235
77.
06-13-65
Piper PA-30 Twin Comanche
78.
08-28-65
Alon A-2 Ercoupe
79.
10-30-65
Cessna 170 floatplane
80.
04-30-66
Lake LA-4, Buccaneer
81.
07-24-66
Aero Commander 500 series
82.
01-31-67
Siai-Marchetti SF.260 (Waco Meteor)
83.
02-04-67
Partenavia P-64 Oscar
84.
04-28-67
Aero Commander 200
85.
05-26-67
Roberston Cessna 182, 210 STOL
86.
08-22-67
Bellanca 7EC Citabria
87.
09-19-67
Helio Courier H-250 Mark II
88.
10-19-67
Beech T-34 Mentor
89.
12-03-67
Schweizer 2-33
90.
12-29-67
Siai-Marchetti 220 Sirius
91.
01-12-68
Piper PA-32 Cherokee Six
92.
02-03-68
Wren 460 Beta STOL
93.
02-11-6
Cessna 177 Cardinal
94.
03-16-68
Boeing 727-100, 100QC
95.
05-05-68
Reims F-172 Rocket
96.
05-11-68
Scheibe Bergfalke III
97.
05-17-68
Boeing 727-200
98.
05-26-68
Hughes 500
99.
05-31-68
Fornier RF-4D
100.
06-13-68
Piper Comanche 600 (turboprop)
101.
08-06-68
Cessna 206 Super Skylane
102.
09-27-68
Aero Commander 100 Darter
103.
11-08-68
Temco T-610 Super Pinto
104.
12-02-68
Beech F33C Aerobatic Bonanza
105.
12-24-68
Cessna 320 Skyknight
106.
01-17-69
NASA 808 (PA-30) Test Vehicle
107.
02-14-69
Sud Rallye MS-894A Minerva
108.
02-26-69
Stinson L-5E Sentinel
109
03-08-69
Conroy STOLifter
110.
05-05-69
Piper PA-28 Arrow
111.
05-11-69
DeHavilland DHC-1 Chipmunk
112.
07-26-69
Schweizer 2-32
113.
08-29-69
Learjet 24
114.
10-04-69
Cessna 150 Aerobat
115.
01-24-70
Britten-Norman BN-2A Islander
116.
02-08-70
Morovan-Otrokovice Zlin 526 Trener Master
117.
03-28-70
Piper PA-39 Twin Comanche C/R
118.
04-03-70
Mooney M-10 Cadet
119.
04-28-70
Siai-Marchetti A.S. 202 Bravo
120.
06-20-70
North American Rockwell 1121 Jet Commander
121.
07-20-70
Bücker BU-133 Jungmeister
122.
08-30-70
DeHavilland Gypsy Moth
123.
01-24-71
Schweizer 1-34
124.
01-26-71
American Jet Industries 402 TurboStar
125.
04-12-71
McCulloch J-2 Gyroplane
126.
10-15-71
Enstrom F-28A
127.
11-02-71
American Yankee AA-1A Trainer
128.
11-18-71
Champion 402 Lancer
129.
01-20-72
Francis Lombardi FL-3
130.
02-19-72
Bellanca 17-31A Super Viking
131.
03-01-72
Cessna 337 Super Skymaster
132.
03-05-72
Cessna 177 Cardinal RG
133.
04-08-72
Bell 47H-1
134.
05-01-72
Beech E-90 KingAir
135.
06-11-72
Thurston TSC-1A1 Teal
136.
06-11-72
Schempp-Hirth Cirrus
137.
06-14-72
Lockheed L-1011 TriStar
138.
06-22-72
Piper PA-18 Floatplane
139.
06-24-72
Interstate S1B2 Arctic Tern
140.
08-06-72
Warwick Bantam
141.
10-31-72
Sud Aviation Gardan Horizon GY-80
142.
11-30-72
Israel Aircraft Industries 1123 Westwind
143.
02-12-73
Cessna 150/150 with Owl STOL Conversion
144.
03-04-73
Jodel D117
145.
03-15-73
Beech 95 Travel Air
146.
05-14-73
Citabria 7GCBC-S Floatplane
147.
05-23-73
Grumman American AA-5 Traveler
148.
09-01-73
Navion G-1 Rangemaster
149.
10-20-73
Bellanca Champ 7ACA
150.
02-05-74
Transavia Airtruk PL-12U
151.
03-11-74
Cessna 414, 414A Chancellor
152.
06-12-74
Blanik L-13 Sailplane
153.
06-12-74
Cessna L-19 Birddog
154.
07-12-74
Maule M-5 Lunar Rocket
155.
08-19-74
Piper Warrior, Archer, Dakota
156.
10-28-74
Aerostar 601P
157.
11-09-74
Beech 55 Baron
158.
04-10-75
AES Ltd. Airtourer T3A
159.
04-10-75
DeHavilland Tiger Moth
160
04-13-75
Beech B24R Sierra
161.
04-21-75
N.Z. Aerospace CT/4 Airtrainer
162.
04-21-75
N.Z. Aerospace FU-24-950 Fletcher
163.
01-09-76
Beech 200 Super King Air
164.
03-12-76
Israel Aircraft Industries 201 Arava
165.
04-17-76
Messerschmitt BO-209 Monsun
166.
05-27-76
Beech Model 76 Test Bed
167.
06-17-76
Beech A-36, B-36TC Bonanza
168.
11-19-76
Piper Lance
169.
05-09-77
SAAB MFI-15 Safari
170.
05-18-77
Piper Seneca II
171.
05-18-77
Robertson Cessna 310 II w/ Fowler-flap conversion
172.
05-18-77
Robertson Bonanza w/ full-span flap/spoiler (roll) conversion
173.
09-25-77
Malmo Flygindustri MFI-9 Floatplane
174.
03-24-78
Rockwell Commander 112, 114
175.
05-09-78
Polish PZL-104 Wilga
176.
05-22-78
Piper PA-38 Tomahawk
177.
09-15-78
Sportavia RF-5B Sperber
178.
10-14-78
Piper PA-44 Seminole
179.
11-25-78
Polish PZL SZD-4 Ogar
180.
02-15-79
Douglas DC-4 Carvair
181.
04-09-79
Pitts S-2A
182.
04-15-79
Scheibe-Flugzeugbau SF-25E Super Falke
183.
09-28-79
Robertson Cessna P210 s/ spoilerons
184.
10-20-79
Funk Model C
185.
02-25-80
Robertson Cessna 402C w/ Fowler flap conversion
186.
02-27-80
Rutan Defiant
187.
02-27-80
Rutan Long-EZ
188.
03-12-80
Cessna 172RG Cutlass
189.
04-07-80
Great Lakes 2T-1A-2
190.
05-18-80
Morelli M-100S
191.
06-26-80
Goodyear GZ-20 Blimp
192.
12-14-80
Piper Pawnee Brave
193.
07-06-81
Cessna 441 Conquest
194.
07-11-81
Piper PA-31T Cheyenne II
195.
11-12-81
Beech 77 Skipper
196.
01-23-82
Partenavia P-68
197.
07-08-82
Cessna T210 w/ Glide Path Control Spoilers/Speed Brakes
198.
11-11-82
Boeing 747
199.
01-13-83
Boeing 747SP
200.
11-10-83
Robin 2160 Sport
201.
02-08-84
Boeing 767-200
202.
10-05-84
Cessna Citation I -501SP
203.
02-21-85
Aerospatiale TB-9 Tampico
204.
03-01-85
Bücker C-104 Jungmann
205.
08-20-85
Piper PA-31-350 Navajo Chieftain
206.
09-14-85
Grob 109 Motorglider
207.
09-11-86
Cessna 425 Corsair, Conquest I
208.
09-29-86
Cessna 335, 340
209.
02-28-87
Aerospatiale TB-20 Trinidad
210.
04-09-87
Beech 80 Queenair
211.
04-19-87
Piper J-3 Floatplane
212.
06-18-87
Varga Kachina 2180 TG
213.
06-20-87
Allison Propjet Bonanza
214.
08-18-87
Bushmaster 2000
215.
08-25-87
Learjet 35A
216.
04-02-88
Aerospatiale SA-314G Gazelle
217.
05-11-88
Bellanca 8KCAB Decathlon
218.
05-16-88
Mooney M-20L PFM Porsche Flugmotor
219.
07-04-88
Glassair I, SH-2R
220.
07-23-88
Porterfield PF-65 Collegiate
221.
09-10-88
Cessna 208 Caravan (amphibious floats)
222.
09-14-88
Beech 76 Duchess
223.
09-17-88
Cessna 140 Floatplane
224.
09-24-88
Glassair III
225.
01-31-89
Questaire Venture
226.
06-24-89
Piper PA-46-310RT Malibu
227.
10-08-89
Grob G-103A Twin II Acro
228.
03-12-90
Rutan Model 143 Triumph
229.
08-25-90
Grumman American GA-7 Cougar
230.
10-11-90
Beech 2000 Starship I
231.
10-30-90
LoPresti Swiftfury II
232.
10-25-91
American General Tiger
233.
01-21-92
Kitfox IV Speedster
234.
08-13-92
Cessna 150/150 Floatplane
235.
09-24-92
Schleicher ASK-21
236.
11-11-92
Robinson R-22 Beta
237.
12-22-92
Berkut
238.
02-08-94
Douglas DC-3
239.
02-11-94
Cessna 172 Floatplane
240.
05-31-91
Augusta A-109
241.
10-24-94
Aerospatiale TBM 700v
242.
11-05-94
Diamond Katana
243.
05-05-96
American Champion 8GCBC Scout
244.
06-26-96
Meyers 145
245.
07-20-96
Siai-Marchetti SF.260TP
246.
03-07-97
Cessna 208 Caravan
247.
10-19-97
Boeing 757
248.
01-25-98
Aerospatiale TB-10 Tobago
249.
01-30-98
Norman NDN-1T Firecracker
250.
03-08-98
Cresco Turboprop Agplane
251.
03-13-98
Schleicher ASH-25
252.
03-15-98
Beagle B-121 Pup
253.
10-30-98
Micco SP-20
254.
11-13-98
Ximango AMT-200
255.
11-17-98
Martin 404
256.
12-08-98
Space Shuttle Orbiter Simulator
257.
06-14-99
Grumman G-44 Widgeon
258.
11-27-99
Boeing 737-200
259.
03-08-00
Piper Saratoga SPII
260.
07-21-00
Aviat A-1B Husky
261.
07-29-00
Fairchild 22
262.
07-30-00
Holste MH.1521 Broussard
263.
09-28-00
Lockheed U-2
264.
10-23-00
Lancair Columbia 400
265.
12-06-00
Beech 60 Duke
266.
04-02-01
Antonov AN-2 Colt
267.
04-28-01
Pilatus PC-12
268.
05-08-01
Lincoln-Page PTK
269.
10-16-01
Ryan NYP Spirit of St. Louis (replica)
270.
11-17-01
Halsted BH-1 Saffire
271.
11-17-01
Van's RV-6
272.
10-12-02
Cirrus SR-22
273.
12-04-02
Sikorsky S-38
274.
01-05-03
OMF Symphony 160
275.
02-28-03
Diamond Star DA-4-180
276.
03-09-03
Boeing/Stearman PT-17 Kaydet (N2S-4)
277.
07-08-03
Airbus A300-600
278.
07-10-03
Airbus A318
279.
10-17-03
Gulfstream V
280.
10-24-03
Nanchang CJ-6
281.
10-31-03
Anderson-Greenwood AG-14
282.
11-20-03
Quicksilver GT-500
283
12-02-03
SIPA 200 Minijet
284.
01-17-04
Bede BD-4
285.
04-08-04
Stinson Detroiter Junior
286.
04-12-04
DeHavilland DHC-2 Beaver
287.
05-27-04
Beriev Be-103
288.
06-05-04
DeHavilland DHC-3 Otter (turboprop) Floatplane
289.
06-05-04
DeHavilland DHC-2 Beaver Floatplane (amphibious)
290.
07-05-04
Cirrus VK-30
291.
09-24-04
Zlin 242L
292.
09-29-04
Curtiss Wright CW-1 Junior
293.
10-25-04
Found Bush Hawk XP
294.
11-19-04
Dassault Falcon 900
295.
02-04-05
Liberty XL2
296.
04-16-05
Europa Monowheel
297.
07-15-05
Flight Design CTsw
298.
10-22-05
Evektor-Aerotechnik Sport Star
299.
12-04-05
Piper PA-46-500TP Meridian
300.
12-18-05
Lockheed 12A Electra Junior
301.
12-21-06
Sky Arrow 650TCN (Italian)
302.
03-27-07
Extra 300
303.
05-14-07
North American TF-51 & P-51D Mustang
304.
09-10-07
Canadair Regional Jet CRJ-200, 900
305.
10-23-07
Sopwith 1½ Strutter
306.
03-14-08
Diamond DA42 Twin Star
307.
05-10-08
Howard DGA-15P
308.
06-25-08
Remos G3 600
309.
07-26-08
Stinson SR-9F Reliant
310.
03-13-09
Aeronca 15AC Sedan
311.
05-13-09
Consolidated B-24 Liberator
312.
07-14-09
Bell-Boeing V-22 Osprey
313.
10-26-09
Bell 206L-1
314.
12-05-09
Ford Tri-Motor 5-AT
315.
03-26-10
Quest Kodiak
316.
05-04-10
North American B-25 Mitchell
317.
05-08-10
Czech Sport Aircraft SportCruiser
318.
05-21-10
Krier Clipped-Wing Cub
319.
05-21-10
Lear 45
320.
08-30-10
Cessna 162 Skycatcher
321.
11-09-10
Siai-Marchetti SM-1019
322.
01-24-11
Bellanca CH-300 Pacemaker
323.
02-24-11
Eagle 150b
324.
04-28-11
Boeing B-29 Superfortress
325.
09-09-11
Lancair IVP
326.
03-05-12
Boeing B-17 Flying Fortress
327.
7-10-12
Maule MXT-7-180C
328.
10-14-12
Firefly 7-15 Hot Air Balloon
329.
10-15-12
Gipps G8 Airvan
330.
10-27-12
Vultee BT-13/BT-15 Valiant
331.
1-6-13
Bombardier Challenger CL-300
332.
2-22-13
Grumman HU-16 Albatross
333.
6-10-13
Bell HU-1B Iroquois (Huey)
334.
6-12-13
Urban Air UFM-13 Lambada (Motorglider)
335.
7-23-13
Lockheed T-33 Shooting Star (T-Bird)
336.
8-10-13
CZAW Mermaid (LSA)
337.
8-14-13
Mitsubishi MU-2 Marquise
338.
9-17-13
Consolidated PBY-5A Catalina
339.
1-3-14
Scottish Aviation B.125 Bulldog
340.
2-5-14
Bombardier DHC8-400
341.
5-4-14
Pipistrel Alpha Trainer (LSA)
342.
5-6-14
Boeing B-52H Stratofortress
343.
10-16-14
Cessna 510 Citation Mustang
344.
10-16-14
Eclipse 550
345.
11-25-14
Tecnam P2006T
346.
2-21-15
Pilatus PC-7 Turbo Trainer
347.
4-25-15
Taylorcraft L-2 Grasshopper
348.
6-8-15
Fieseler Fi.156 Storch
349.
6-10-15
Hamilton H47 Metalplane (seaplane)
350.
8-7-15
Thorp T-18
351.
9-18-15
Yakovlev Yak-18T
352.
1-6-16
McDonnell Douglas DC-10-10
353.
1-25-16
Lockheed Martin C-130H Hercules
354.
2-6-16
Beech 18 w/ Volpar tricycle-gear conversion
355.
6-29-16
Arion LS-1 Lightning
356.
(Feb. '12)
Curtiss Robin
357.
5-26-17
Sling 4 (South African)
358.
3-23-19
Curtiss P-40 Warhawk
359.
3-24-19
Beechcraft Model 58 Baron
360.
6-23-19
Yakovlev Yak-18
361.
8-6-19
Progressive Aerodyne SeaRey